Congratulations on your purchase of the
SpygearGadgets Professional Grade USB Flash Drive Voice and Audio Recorder with 25 Day Battery Life
. This miniature voice recorder is
easy to use
, and
requires very little setup
.
To get started with the voice recorder, open the product box, and you'll find two things inside: the voice recorder itself, and a 1-page quick start guide.
First, please familiarize yourself with the flash drive voice recorder by reading through the
quick start guide
. Once you've familiarized yourself with how the device works, the following steps will go into detail about how to use the device:
---
CHARGING THE RECORDER
---
The first step in using the device is to
charge the voice recorder
. The recorder features an internal rechargeable battery, which can be charged several ways:
Charges when plugged into USB port (most common)

Charges when plugged into an optional wall charger

Charges when plugged into an optional car charger
Before charging, make sure the
dial on the end of the recorder is placed into the center position
, as pictured below: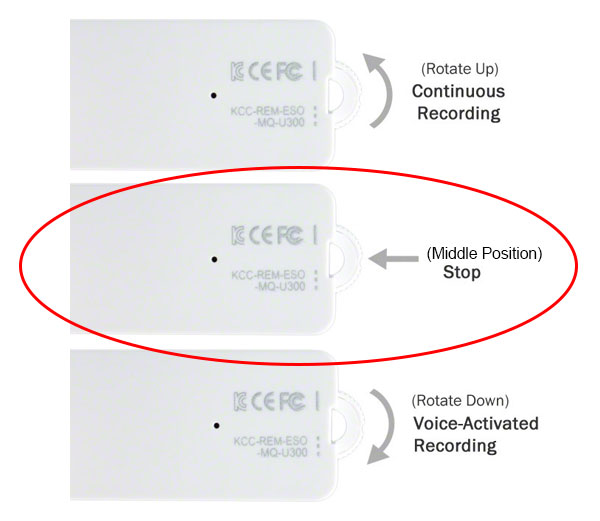 To charge the recorder, simply plug it into your computer's USB port: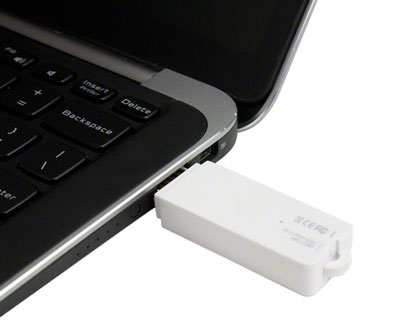 It will take up to approximately 2-3 hours for the recorder to fully charge.

There are 2 ways to check the battery charge level of the voice recorder:

1. When you unplug the drive from your USB port, there is a small LED light by the USB connector. This light will do one of three things, depending on the battery charge level:

Battery Level 0% to 30% >> LED will be completely out

Battery Level 30% to 70% >> LED will be blink

Battery Level 70% to 100% >> LED will be solid red
2. The second way to check the battery level is when you first turn the recorder on (into one of the 2 recording modes). When you turn the recorder on, for 5 seconds the LED light will indicate the battery status level just like as mentioned above. So for example, if you turn the recorder on, and the little red LED blinks red for 5 seconds, it means the battery level is between 30% and 70% remaining.
---
RECORDING AUDIO
---
The USB flash drive recorder features two recording modes: Continuous Recording and Voice Activation:
Continuous Recording Mode
In continuous recording mode, the voice recorder records continuously until either the dial is turned back into the "Stop/Middle" position, or until the battery runs out.
Voice Activated Recording Mode
One of the best features of this device that makes it unique from other voice recorders is it's ability to record only when audio/voices are detected. This allows the device to sit in "standy mode" for up to 25 days on a single battery charge, and get up to 15 hours of recording.

So how does voice activation mode work? Whenever the device is turned on and in voice activation mode, it will be listening for sounds or voices. Once it detects audio, it will begin recording. Once it doesn't hear any more audio, it will return to standby mode.
---
LISTENING TO RECORDED FILES
---
When you're ready to listen to your recorded audio files, listening to them is easy.
Simply plug the flash drive voice recorder into your computer's USB port.
Because USB is a universal technology, there is no special software or drivers needed, and the files can be played back on both PC and Mac computers.
After you plug the device into your computer's USB port, you'll get a pop up like the one below: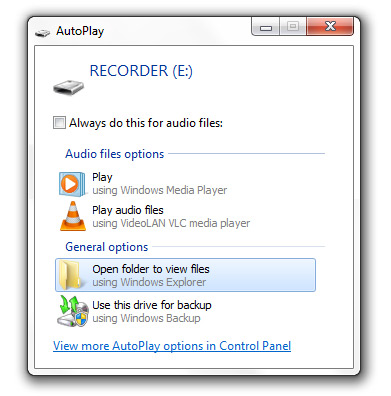 Next, click on "Open folder to view files", and then click on the folder titled "VOICE". Inside the VOICE folder you'll see all of your recorded files. Simply click on a file to play. The audio file will open up in your default media player on your computer: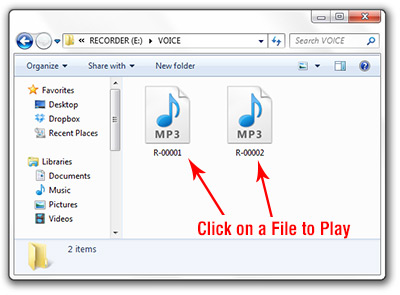 After you've listened to your files, you can copy/move/delete them just like a regular file. You can move or save them to your computer's hard drive, or even email them to a friend or colleague.
If you have any additional questions or need assistance using the flash drive voice recorder, our product experts are available to answer any questions you have, just
contact us
and we'll be glad to help.